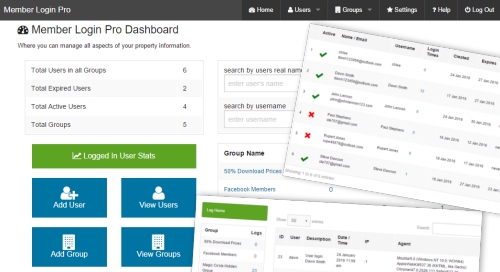 All the features to manage your Members access area on your website. Unlimited members with Usernames/Passwords
Member Login Pro contains all the features that you would expect to be able to create your own Members Area on your website. Protected with a Username and Password supplied by you, you can be sure only those with the access information can view your protected content pages.
Member Login Pro is an invaluable tool for any person or business who has a website and would like to make sure only certain people with the correct member access rights can view the data and content.Member Login pro is a PHP script which creates a login wrapper around your existing or new web pages to prompt the visitor to login to view the content.
Why pay a monthly fee for similar services when you can own and store members information on your own web server for a one-off low fee.
Passwords are encrypted when stored in the database for all Users and Members. We have also included a generate password function so that you can create a strong password for members, as a weak password is not what we would advise you to use!