Purchase Member Login Pro
Member Login Pro is an invaluable tool for any person or business who has a website and would like to make sure only certain people with the correct member access rights can view the data and content.Member Login pro is a PHP script which creates a login wrapper around your existing or new web pages to prompt the visitor to login to view the content.
If you have any pre-purchase questions, please do not hesitate to contact us on info@stevedawson.com.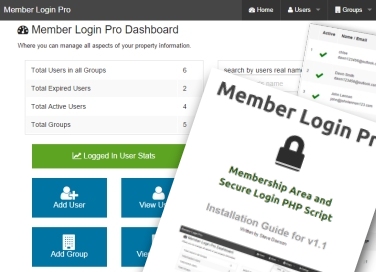 All purchases come with the following:
Comprehensive Installation Guide
Comprehensive Admin User Guide
Automatic Database Installer
Free Support
Payment is processed by our third party payment provider, PayPal.
A quick thing to note is that delivery of the script (download) is not instant and all purchasers are checked.